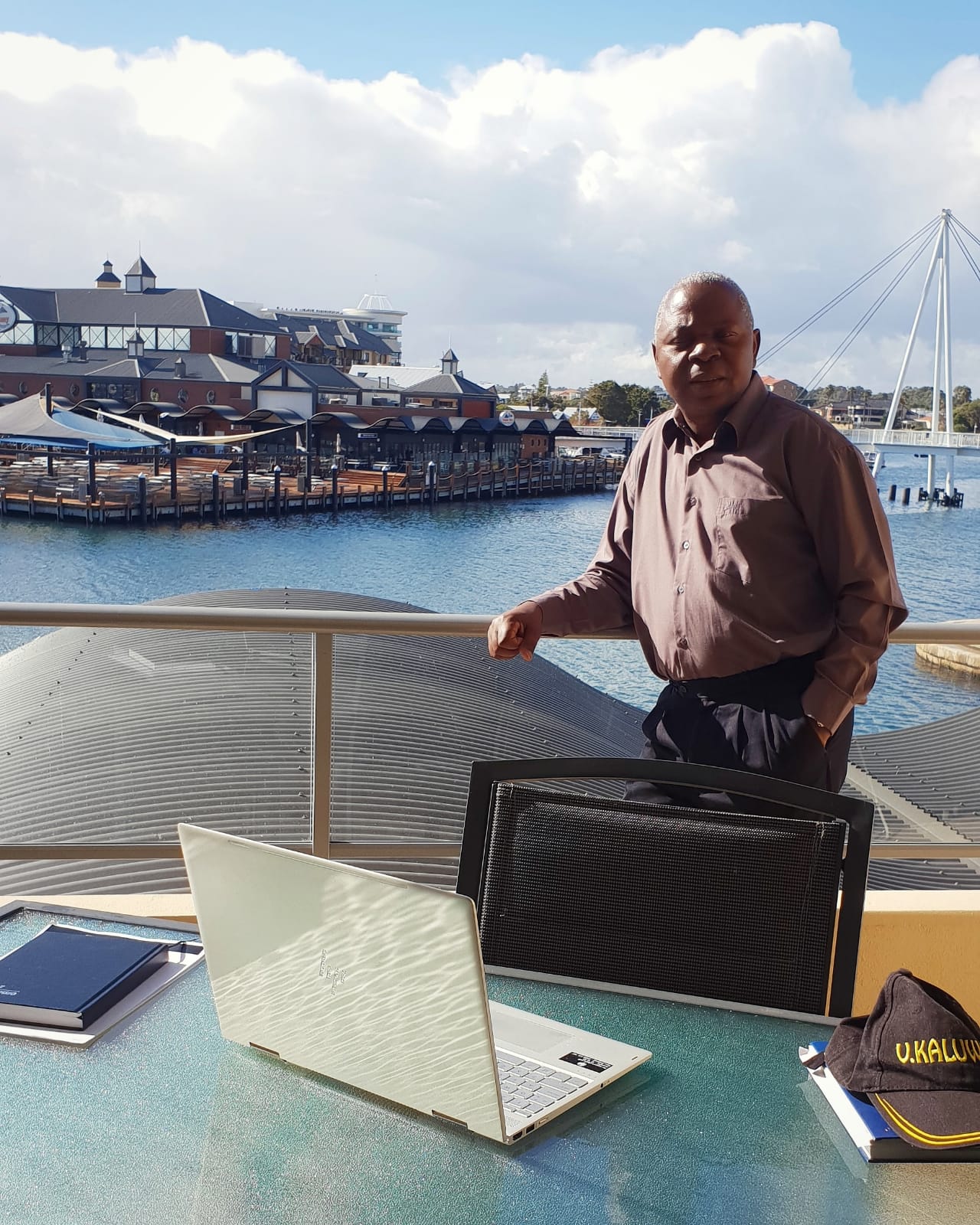 My journey from nurse to an entrepreneur
My name is Charles Kaluwasha, the CEO and Company's training manager at C J Investiments Pty Ltd, LifeOnTheNet.Com  and Build A Wealth System where we give away 200 fully functioning WP sites.              It is an honour and privilege to share with you virtually, and I would like to welcome all of you to our  Entrepreneurs Development Circles program.
Before we start, let me tell you a little about myself, including my background and the
company philosophy
I'm married with four children, two grandchildren and live In Perth, Australia.
Besides my work as a nurse, I enjoy writing articles, and books, mentoring people, practising and singing Gospel songs, gardening and travelling.
I started my company as a sole trader and later partnership entrepreneur in Kalulushi, in 2001.
To make my dream to study abroad a reality while providing income for my family to survive, I found three solutions:
Open a drug store in my town in Kalulushi, Zambia.
Buy a small farm to grow vegetables that would be sold at the local market
And keep chickens to sell.
After moving to New Zealand in 2003, I worked hard as a student, then as a full-time nurse while taking courses to get additional degrees, climbed the ladder and sent money to a family who stayed back in Zambia.
My dream to reunite the family eventually came true. The five of them came to join me in New Zealand in 2005.
My strong mindset, determination, hard work, willingness to gain more knowledge, and association with positive and successful people made this possible.
From there on, I  kept being open to new ideas that moved me up to Australia and ventured into multifamily investing in 2014.
I am an example to so many people in our community of Diaspora, and for showing them that whatever their conditions, they can make their dreams a reality if they adopt the right mindset and take the right actions.
More info: "Bringing Value, Solving Problems and Leaving a Legacy" (p. 244)
"If you really want something valuable, never give up, Focus on your Mission, and be open to see new Opportunities" Charles Kaluwasha
In your hands right now, you are going to have an unbelievable chance. It is an opportunity to join a prosperous marketing business from an entirely different perspective.
It is an opportunity to acquire vital knowledge to help you improve your career pathway and the community more quickly than you could ever dream.
And do so in a far more advanced method to boost your production capacity, be a symbol of hope to many youths and reduce the time you spend establishing forms of empowering the society.
And will do it in a much more leveraged way to increase your productivity and reduce the time you spend learning basic business skills. And finally, achieve your goals and fulfil your dreams.
I know this because I had witnessed these results first-hand from hundreds of students that CJ investiments had mentored since 2017, when I first met and attended the DG Institute workshop in Sydney, Australia.
Since then, I have perfected my website and training modules to meet the program's high demand.
On 12 April 2021, Our paths crossed each other with Steward Makanse, the  CEO of Entrepreneur Development Circles(EDC), thanks to an article I published on LinkedIn about launching my book "Bringing value Solving Problems and Leaving a Legacy,"
Steward Makanse tracked down my WhatsApp number and replied, "I think the title of the book fits well with the programme we are about to start implementing in schools".
"It's about Entrepreneurship Development for Job and wealth creation. It is intended to provoke entrepreneurial minds among the school going youths and provide an alternative career pathway as future professional entrepreneurs instead of searching for employment that is not even available."
"We want to encourage you to use your knowledge, expertise, experience and abilities to support our young people as a company member of the programme. The programme will be established in schools and be implemented through entrepreneurship clubs; where members will be trained in entrepreneurship and small business management."
I was blown away and promptly agreed upon and signed the MoU when Steward told me of his organization's goal.
It is an honour for me to be invited to contribute to this calling and share my knowledge and expertise with the Zambian People and the world.
Why? Because almost every industry leader and Company still uses the old playBook to establish a network marketing company.
You will experience and start a fully revamped and updated life and experiences along the way if you stick with us.
This is not a recreational lecture.
It's an entirely fresh approach to traditional wisdom. And long-standing convictions about what to build in network marketing companies.
You may have previously been exposed to network marketing firms, but this one is unique and changes people's lives straightforwardly and unconditionally.
Information is a vital instrument. You can use it to attract interest, build bridges to help people cross over, increase desire, pay attention and influence society.
However, your success or failure is influenced by the competent application of the pertinent information precisely.
We have implemented new technology to share vital and digestible information with everyone.
These techniques are not available anywhere else. Many companies use the old type of book approach from an ancient era.
They're only a lot slower. And a lot less useful in our technically highly connected and socially driven global involvement.
If you want to successfully use the current methods and new tools to maximize your leverage in the modern era as a network marketer, then you must radically rethink your approach.
Fortunately, Steward and I have discovered the ultimate way to physically and digitally create a business model that will bring financial freedom to those who embrace it. And you are the agents of Change!
To supply quality resources and systems to speed up economic development and training needs, C J Investiments Pty Ltd was the top partner on the list.
On 20 June 2020, C J Investiments Pty Ltd signed an MoU with Entrepreneurs Development Circles of Zambia to provide business development services and contribute to the development of entrepreneurship in Zambia. This joint programme aims to develop an "entrepreneurial mind" among the Zambian people and the world at large for Job and wealth creation.
We seek to augment the government's efforts in actualizing the vision 2030 and the programs as articulated in the 7 th National Development and subsidiary plans of making Zambia a Prosperous and Poverty-free Society with sustainable employment opportunities that guarantee wealth for its people.
For those who will join us as employees, Steward Makanse, our Chief Executive Officer, will outline the organization's structure, programmes, and operations, as well as your specific responsibilities and results.
A team member's annual performance will be evaluated.
With this, you'll be inspired to work hard and impress your managers.
As it is stated in your employment contracts, the Company reserves the right to terminate an employee's employment at any time for misconduct, including, but not limited to, the actions listed below:
Team member dishonesty in relation to Company business or property,
as well as any attempted theft, fraud, or lying on behalf of the Company's clients or customers.
In addition, Abusing, assaulting, and threatening anyone in the Company's premises or customers at any time; this includes employees and supervisors alike and any customers or clients of the Company.
Entering the Company's premises with alcoholic beverages, illegal drugs, or narcotics that superiors have not approved.
Your performance result was all that mattered to us, so we were only asked to put forth our best effort. The Ice Breaking Program is the final program in the series.
This program breaks the embarrassment or shyness of meeting new people, new leaders, Clients and new places. The primary goal is to foster collaboration amongst the entire workforce.
Working as a team is personified in the rowing boat. Additionally, a team is defined as a diverse group of people working together to achieve a common goal while capitalizing on and respecting the abilities and knowledge of each member.
Teamwork in this Company will ensure profitability, customer satisfaction, and team member satisfaction if all employees work together. Because of this, we can all reap the benefits of our cooperation.
The five rules of teamwork are as follows:
Motivated people, psychological safety, and an atmosphere of continuous improvement are the building blocks of successful teams.
Collaborative
There are many different collaborative teams, but they all share a common goal.
It's easier to understand or complete a task when the team works together. It also aids in solving the problem by bringing together experts from different fields.
Relationships within a team:
A team is a group of people working towards a common goal. More productive teams have better working relationships. They bring their own experiences and viewpoints to the table.
It can lead to a healthy level of competition and remove ego because they can showcase their abilities. There is MASS productivity as a result of this.
When a teammate or coworker is commended for their efforts, it is known as "peer recognition." For example, it could be thanking or acknowledging your coworkers or praising them.
One of the best ways to foster a positive work environment and culture is recognizing your colleagues.
It's also important to note that humanity and a sensitivity-rich leader will define the ideal workplace figure.
I want to encourage you to keep striving to learn new things and grow as individuals.
It is imperative that all employees develop the skills necessary to work effectively in a global Dustless.
I strongly advise you to put in the time and effort necessary to achieve your academic goals and professional acumen.
You'll be helping new students understand the concepts of entrepreneurship as they work in groups. You are their oasis of knowledge.
It would be best if you also took a personal initiative to continue your education by taking advantage of any in-house programmes or other training alternatives that may be available to you.
It's always a good idea to "talk shop" with your coworkers on your days off or during downtime.
As you gain experience in the workplace, you'll take on more responsibility and carry out any tasks assigned to you with pleasure.
You will be expected to put in much more effort than you ever imagined possible in all of the courses you take.
This Company uses e-learning platforms, Apps, video presentations, TV and radio platforms and other reading materials. We'll show you how to use the internet to learn more and get ready to work in the community.
This is a serious programme, and I strongly encourage you all to take it seriously and learn everything we teach you to avoid misinformation. This information is critical to you, your coworker, and the Company as a whole.
I'd like you all to ensure that your life goals are protected from the final attributes.
With this, you'll never lose sight of your goals, and you'll do everything in your power to achieve them.
Your goals will motivate you to work harder and consistently outperform your peers.
Check in with yourself halfway through your goal to see if you're being assertive enough or if you need to change your timeline.
Weaknesses need to be considered after determining your goals. Your deficiency may impede your goals.
Finally, let others know about your personal development process as you share the benefits of our company programme with the public.
Our goal is to make Entrepreneur Development Circles a company that will be recognized around the world in years to come. And you will be part of the history!
With your help, we can achieve this goal in your respective areas of responsibility.
Once more, on behalf of the team and myself, I'd like to extend my heartfelt congratulations to each one of you for allowing us to be part of your prosperity and financial freedom.
I hope to make CJI a better company and succeed in the global market as we work together.
I Thank You.
Charles Kaluwasha
C E O- CJ Investiments Pty Ltd
Reminding you of the two CJI rules for building wealth: Start saving and investing as soon as you can. ‎