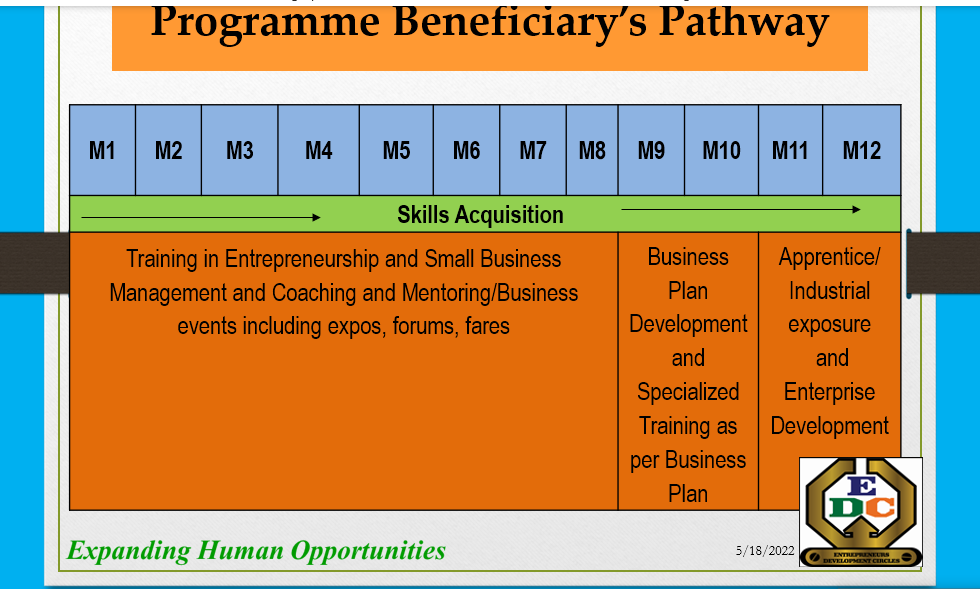 Expected Beneficiaries' Activities and Benefits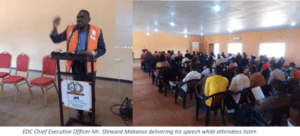 The EDC Chief Executive Officer, Mr Steward Makanse, outlined the activities that the beneficiaries were expected to undertake and the benefits thereof. He delivered his task through a PowerPoint pictorial presentation. He said that as beneficiaries of the EDC/CJ Investments entrepreneurship programme:
They would be placed on a twelve (12) month pathway training during which period,
They would be attending training meetings on entrepreneurship and small business management in their respective entrepreneurship clubs at least twice a week,
They would be attending business coaching and mentorship sessions; either virtually or physically,
They would be attending various business events including fairs, expos, symposiums, and business clinics.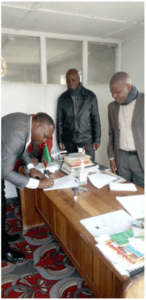 They would also be involved in developing business plans and work in the industry on an attachment and rotational basis.
He further stated that they would also be expected to be doing mandatory marketing and selling of both goods and services from different companies sitting on the programme as strategic partners.
They also needed to be conducting fundraising activities and doing business.
He further stated that they would be expected to be involved in various community and social activities including sports, cleaning public places, helping the needy etc
Mr Matthews Banda, Nyimba Facilitator
Administration of the Pledge
The guest of honour administered the pledge to all the programme beneficiaries as part of their induction into the entrepreneurship development club.
"You are now officially members of the EDC/CJ Investment Entrepreneurship Club affiliated with your local clubs".

Want to listen to all the remaining speeches below:
Welcoming statement by the Chief Executive Officer of C J Investiments Pty Ltd
Chief Ndake's remarks
Rendering thanks and closing remarks by Board Director Dr Lewis Jere
Entertainment and refreshments.
To avoid missing out on these activities, sign up for our friendly newsletter
Contacts of Implementing Partner Organisations
Partner: Entrepreneurs Development Circles
Name: Mr Steward Makanse
Position: Founder/Chief Executive Officer
Indeco House, 5th Floor, Room 506, Cairo Road
C/O P.O. Box 30560, Lusaka, Zambia
Mobile: +260 971 032 787/ 760 114 844
Email:info.entredevec@gmail.com
Website:https://www.entredevec.com/
Partner: CJ Investments Property
Name: Mr Charles Kaluwasha
Position: Founder/ Chief Executive Officer
Mobile: +61 437 771 036
Email: info@cjinvestiment.com
Website: https://cjinvestiment.com
5/420 Secret Habour BVLD, WA 6173, Perth, Australia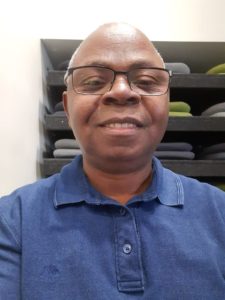 Build The Life of Your Dreams
P.S. Want to invest in this fantastic opportunity? We have a place for you, just fill in your details here!